A small fleet went down to Bunbury during the February/March long weekend. It was a fun weekend and enjoyed by all Rob Depiazzi took home the prizes during the weekend - Congratulations Rob
On the Saturday it was blowing easterly gusting up to 25 knots with large waves and a long course. Sunday morning the wind had dropped to about 10-15 knots and still easterly with a shorter course and on Sunday afternoon the wind had dropped again to about 10 knots. By Monday morning the wind had died out.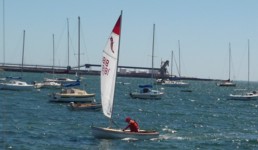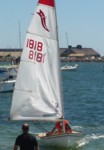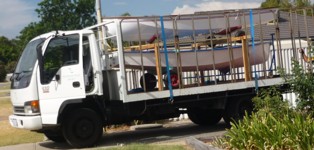 aka "Sabre Transporter"
12th AUSTRALIAN MASTERS GAMES 2010
Bill Gilham represented the PDSC at the 12th Australian Masters Games held in Geelong VIC during February. 
Sailing a hired Sabre he came third in the first race. Being unknown from Perth they thought this can't happen so they stitched him up after that, but he had a good time and learnt a lot…maybe too much