NSW SABRE NEWS NOVEMBER 2013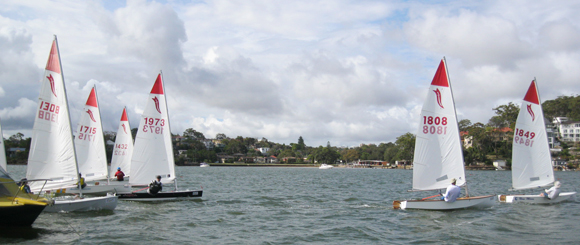 Hi All,
Happy to report strong growth in the NSW Sabre fleet. At Connells Point SC we now have around 20 registered Sabres with numbers looking to increase over the next few seasons.The racing there is as good as ever with close results always.We have a really good fibreglass club boat for anyone wishing to try out a Sabre, you will not be disappointed!
We had 2 Sabres compete at Nationals the RQYS in Manly and another two at the Australian Masters Games, all with good results.We have one Sabre making the trek to Perth to compete at the Nationals - GOOD LUCK Roger!
Sue Hextall the current National womens champ has moved to Gosford where she is sailing at Gosford SC. A few of the guys from Connells Point SC travelled up to there recently to have a sail with Sue. Reports were the Sabres got a lot of interest up there with the laser sailors.The NSW Sabre Association has decided to promote another race day up at Gosford with Sue and another at Hunters Hill SC on Sydney Harbour in the near future.Last eason we had a race day at Cronulla SC which was really successful, we will be doing as many as possible over the next few seasons. Keep an eye on this page for details.
The "King Of The River" Regatta is set down for a start at Connells Point SC on the 16/11/2013 then onto Georges River SC the next day. This regatta will form our 2014/15 NSW State Titles. Please have a look at the NOR and get your entry form in as soon as possible, we need everyone to make an effort to attend and make the series a success. The return four heats will commence

22/3/2014

.
Botany Bay Yacht Club will be again hosting their Australia Day Regatta. It is a great day racing out to the entrance of Botany Bay and back, and a BBQ and beer after the race.
The 2015-16 Nationals will be held in NSW, most likely at Georges River SC. Brilliant sailing out on the bay, wind, waves and the beautiful backdrop of the city. We will keep you posted on developments.
Lea Foster is involved with the Sabres up in northern NSW and has kindly sent some information on whats going on up there.
Great News!!! Wwe have a NSW class sponsor in AFLOAT magazine. They are very generously running some adverts Australia wide for us, promoting the great attributes of the Sabre. It is the best and most informative magazine available, always read from cover to cover, over and over... Suzy and Pete are big supporters of local community and sailing all over Australia. We cant thank them enough for helping us get the Sabre message out there.
DATES TO REMEMBER
"King Of The River" Regatta
November 16 - 17 2013 CPSC and GRSC
March 22 - 23 2014 CPSC and GRSC
Botany Bay YC Australia Day Regatta
Exhibition Race Days - Dates TBA
Exciting times ahead for NSW Sabres, look forward to seeing everyone out on the water!
Please contact me on 0418 978 528 if any further information is needed.
Cheers,
Brad Gorman
NSW Sabres