For the 2012 State Titles we have a special offer where TackTracker will offer a tracking service to participating competitors. This is an incredibly valuable learning tool and the Association strongly recommends it to sailors of all skills and experience. Tack tracker will manage distribution, collection and charging of trackers over the weekend. They will upload all tracks and publish all races online each day for viewing in any of the TackTracker players for PC, Mac, iPhone or iPad. They will also generate reports showing the relative performance of all tracked boats in each leg of each race.
There are very limited spots for the latest trackers so here is how it will work
Competitors wishing to participate have three options:
1. Use a TackTracker supplied rental tracker:  $25 (there are only 26 of these available so it will be a first in best dressed option)
2. Bring your own QStarz BT-Q1000 or CR-Q1000P tracker (must be charged and ready to go): $10
3. Purchase a new QStarz CR-Q1100P tracker with TackTracker Race Editor license and use for the regatta. Discounted price: $250
Bring cash on the day for options 1 and 2 . Option 3 can be paid by cash or EFT.
More information about TackTracker can be found at www.tacktracker.com/web
Please send your reply for a TackTracker to rusell.rooney@macdow.com.au indicating your option 1, 2 or 3.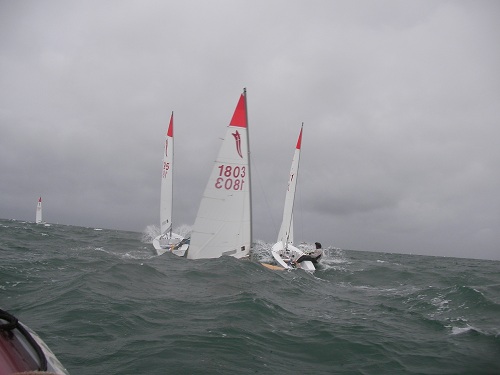 Go for Gold proved to be a very testing event worthy of the title.  Race 1 stopped before it started with a dash for the shore amidst a wild squall, reduced visibility and the wind well above acceptable levels.  The race eventually got underway an hour and a half later in a fresh wind and a very lumpy uncomfortable sea.  Nick won a closely fought battle with Chris.  The start of race 2 saw the wind increasing and the sea becoming very steep.  Some top end sailors ( names withheld for legal reasons) were seen to be enjoying a swim on the downhill leg. This enabled some of us to get a bit further up the leader board than would normally be expected.  The race was won by Pete with Chris again being the bridesmaid.  Race 3 was postponed to another day as the wind increased and the rescue boats were fully occupied.  To her credit visiting flyweight Susannah finished both races leaving some of the heavier crews wondering where they went wrong.