Sabres WA were featured in Making Waves - Yachting WA E-Newsletter. To subscribe to the newsletter please visit Yachting WA's Website
WELL DONE TO WA SAILORS - 33rd NATIONAL CHAMPIONSHIPS 2010/2011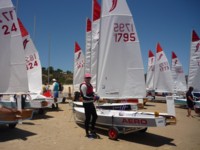 Bill Gillham (WA) getting ready to race
A total of 73 boats competed in the 33rd Sabre National Championships at Brighton Seaclift Yacht Club in Adelaide. Sabre Sailors from Tasmania, Victoria, Queensland, Northern Territory, Australian Capital Territory and South Australia attended as well as representation from WA for the first time.
Nine heats were conducted in winds ranging from 3 knots to 15 knots. WA Competitors Aero (Bill Gillham) and Double Trouble (Ian James) sailed exceptionally well. Congratulations to Ian and Bill who finished 21st and 25th overall.
Victoria's Chris Dance sailed outstandingly to win seven of the nine heats.
Series Results
" 1st Espresso, C Dance, VIC
" 2nd Basic Nightmare, C McPhee, SA
" 3rd Purple Patch, C Burns, VIC
" 4th Therapeutic, M Soulsby, SA
" 5th Serendipity, N Mouat, VIC
The next National Championships in Dec/Jan 2011/2012 will be held in Victoria and will be hosted by Blairgowrie Yacht Club. Entries are expected to be over 100.
WA State President and the State Secretary attended the Sabre Annual General Meeting and provided a presentation on the facilities available for the 2014/2015 National Championships which is scheduled for WA and many expressions of interest have already been received. Requests have also been made from the National Sabre Association to bring the Perth National Championships forward by one year to 2013/2014 - more information will be provided in coming months.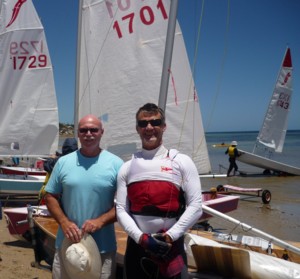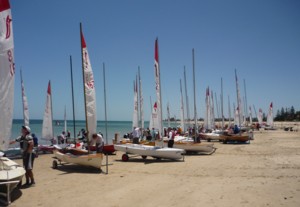 Cliffo (SA) and Ian James (WA)