Chris Holyday started off with his first Sabre in late 2013. He had been sailing Lasers at the Maylands Club but they were becoming harder to sail as he got older and had heard about the Sabre fleet building up at Perth Dinghy Sailing Club. So he rang the WA Sabres State President, Brian Jones, looking for a boat. Of course, Brian can always accommodate with a boat as we all know. And this is how Tango, #1796, became the first Sabre sailing at Maylands Yacht Club.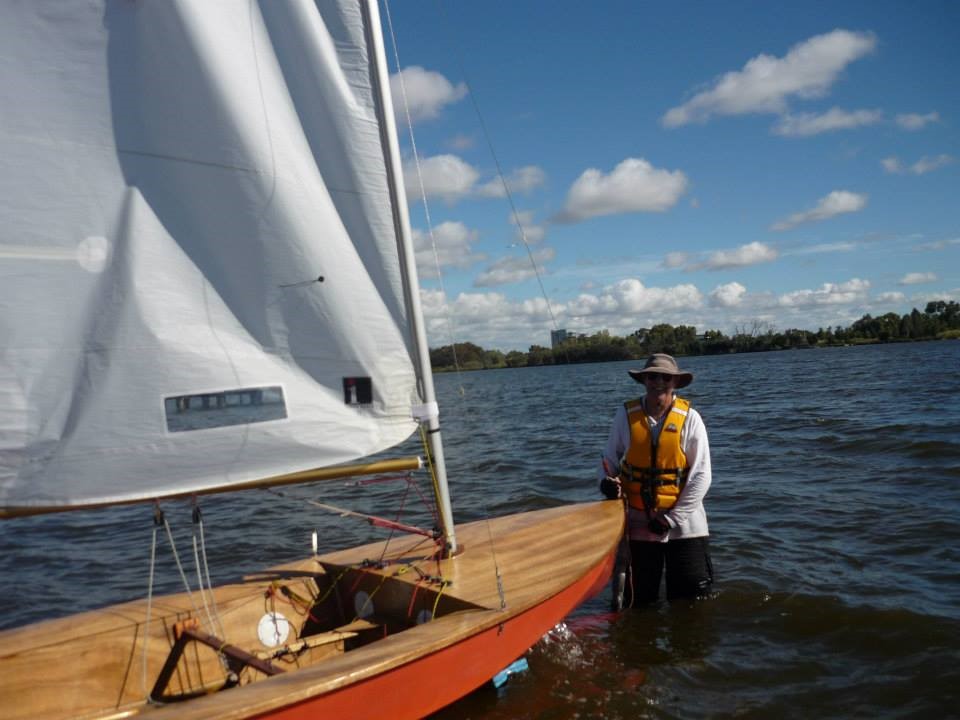 Chris Holyday, proud owner of Tango in 2013
For many years, the Sabres have had to start in the Mixed Fleet as it took two full seasons before Chris was joined by new club member, Paul Maj, who bought Extreme, #1902 from East Fremantle Yacht Club. Thereafter, we had a number of visitors from EFYC who came to support Maylands, along with WA Sabres and PDSC with regular visits, coaching sessions (PDSC) and all-round advice and support.
Club Commodore, Steve Rose, wanted to move up from the Mirror Fleet so Chris decided to sell Tango to him to build up the club's numbers. He then had to look around for a replacement – and it came from EFYC in the shape of Estoile, #1671, a good Botterill grp boat that had been brought into WA from Victoria by the EFYC club as a training boat. It had recently won a WA State Heat as a borrowed boat, so we knew it was fast!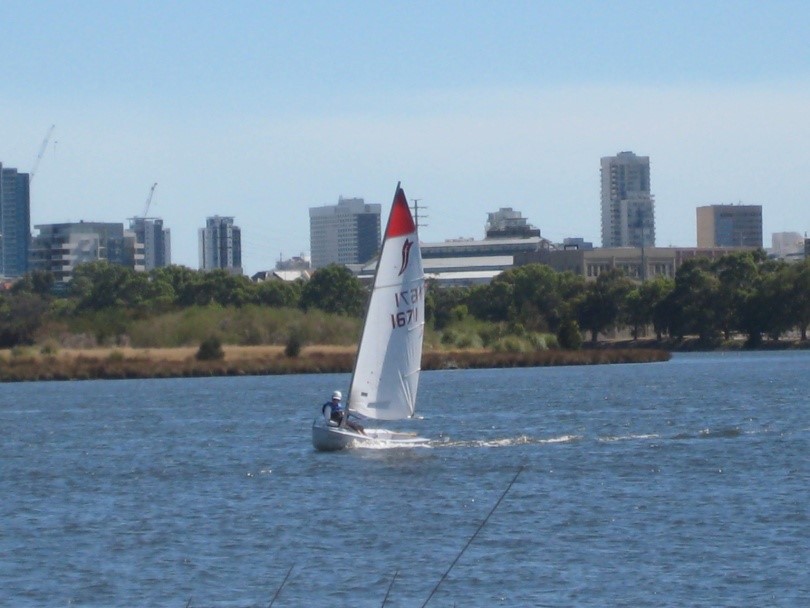 Estoile sailing fast on an early outing at MYC, skipper – Chris Holyday
It was not long before after this that another Laser sailor at MYC, Bruce Lee, decided to get a Sabre – and when he bought Fly In Fly Out, #1868 from PDSC we at last had some steady competition building up. Both Extreme and Fly In Fly Out were good, quick timber boats, especially Fly In Fly Out which carried two kilos of weight correctors attached to the centreboard case – but Estoile seemed to have their measure.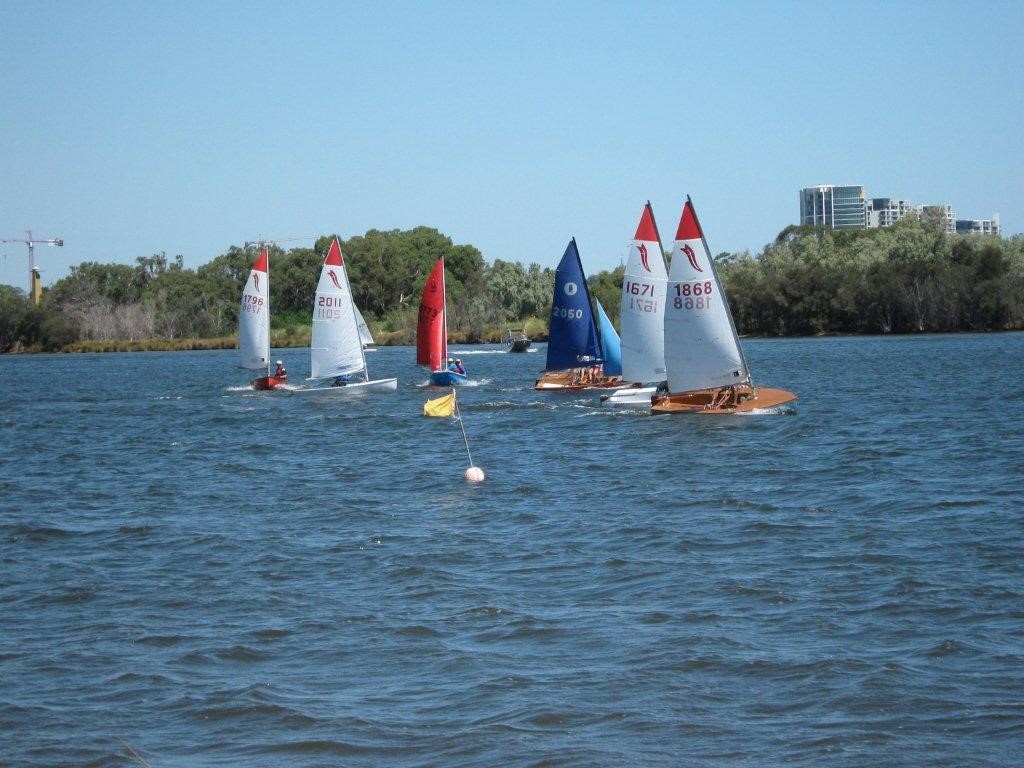 Mixed Fleet start from February, 2015 with Bruce Lee (1868) leading out Chris Holyday in 1671
In 2016/17 we had Ray Martin join the club from PDSC in his Jam Side Up. He purchased Bruce Lee's Fly In Fly Out and restored it beautifully to take out MYC's first Sabre Club Championship in 2016/17 with Chris Holyday runner up in Estoile.
Chris took out the 2017/18 Club Champs in his new boat, C3, #2042, and Terry Gaunt Jnr won the most recent title in Scimitar, #1870.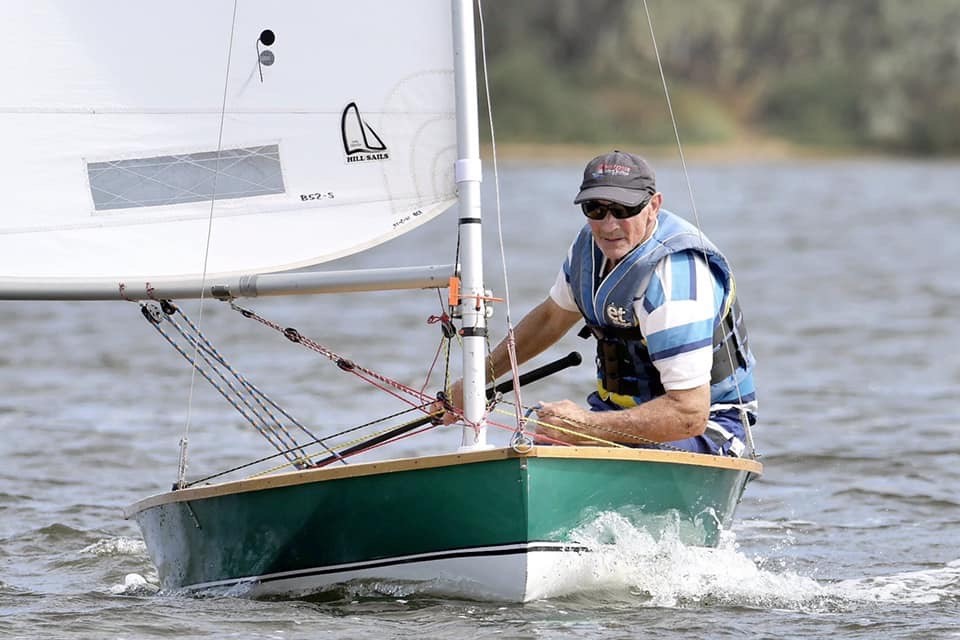 Terry Gaunt Jnr – Scimitar
Today MYC can boast that we have 10 Sabres on the books :
Chris Holyday – C3
Steve Rose – Cutlass
Bruce Lee – Where's Wal (previously Estoile)
Ray Martin – Jam
Terry Gaunt Jnr – Scimitar
Barry Newell – Damocles
Rolna Stoeger – Gone With The Wind (previously Fly In Fly Out)
Mimi Secco – Tango
Anne Christie – Vill-Anne
John Gaunt – Blue Tomato
There are good prospects for new sailors joining the Sabre Fleet soon, and we look forward to a successful 2019/20 season at Maylands Yacht Club.
Chris Holyday
C3, #2042