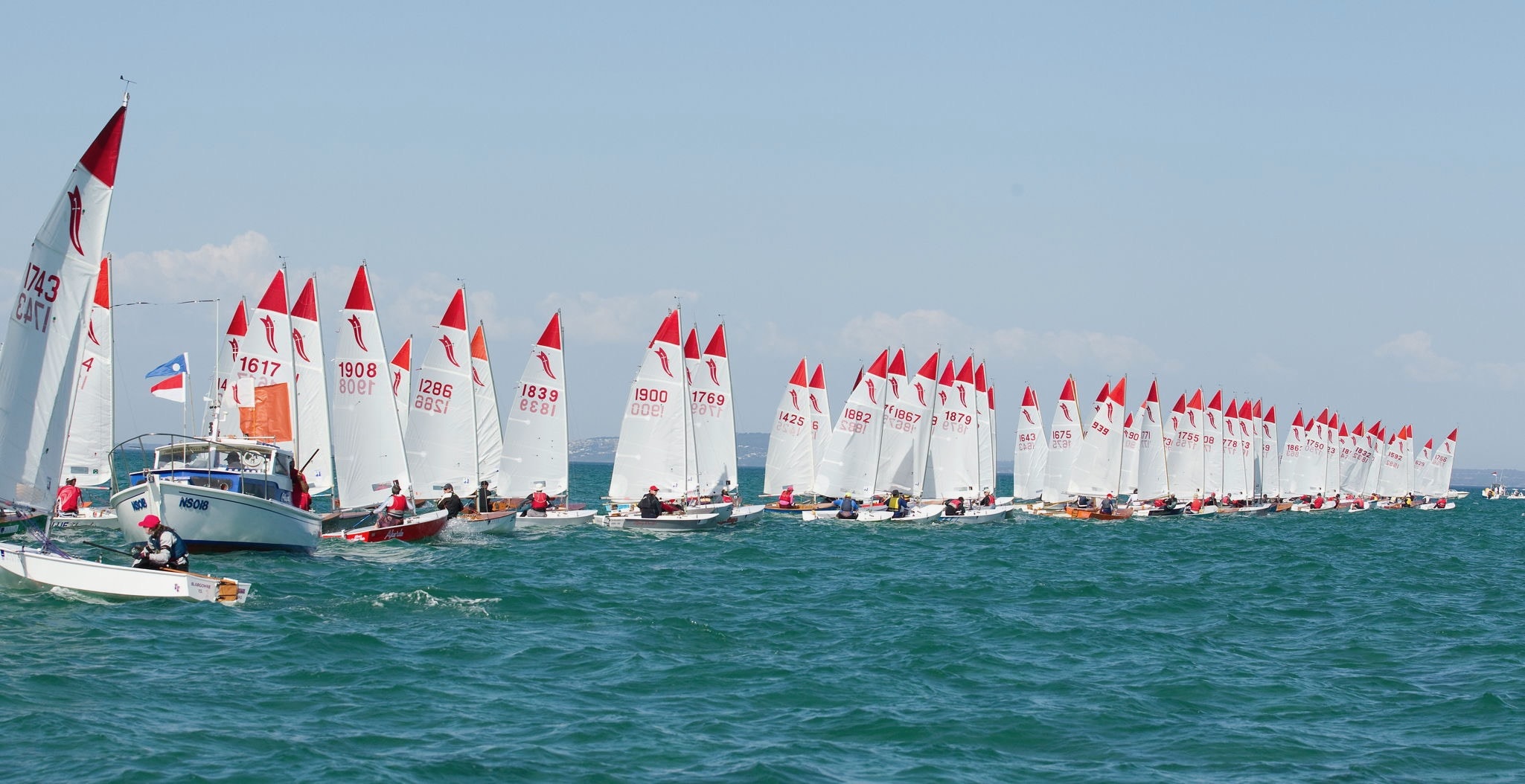 The SABRE was designed in 1974 by Rex Fettell who also designed the MINNOW and as by 2019 close to 2,300 boat plans have been issued.
It is arguably the largest single-handed non olympic class in Australia with 36 clubs sailing the SABRE in all Australian states.
The Class has contributed significantly to the sailing scene, particularly in Victoria, as one of the most active supporters of V.Y.C. activities. As a training class for future world class sailors the Sabre is second to none.
Sabre sailors who have done well on the world sailing scene;
– Owen McMahon
470 Olympic rep, Australian sabre champion 1988.
– Stuart Wallace
Laser World Champion & Olympic rep (x3)
– Sarah Blanck
World Womens Laser Radial Champ 1997, World Europe champion 2002 and Olympic rep 2004 (Europe).
– Melannie Dennison
Olympic rep 2000 (Europe)
– Stewart Rose
LW Sharpie Australian champion 3 times.
– Krystal Weir
Lasre Champion, Olympic Rep Yingling Class 2008
Add Chris Dance, Peter Hackett, Gary McLennan.
The majority of young skippers in the VYC State Squad for the past 10 years have been SABRE and ex-SABRE skippers. The Sabre has been the most represented class at the annual schools regatta over the past 10 years.
Championship regattas cater for all age groups with trophies awarded to the first 5 places in the OPEN category as well as the first three places in the following categories:-
OPEN – Overall
LADIES – Ladies Overall
JUNIOR – Less than 18 years old
SENIOR – 18 and less than 40 years old
MASTER – 40 and less than 50 years old
GRAND MASTER – 50 and less than 60 years old
VETERAN – 60 years and less than 70
GRAND  VETERANS – Over 70 – and still sailing.
Division trophies are also generally awarded in championships when there are appropriately high entries.
In the past few years entries in the Victorian State Championship have ranged between 50 and 100 boats and the 2011  Australian Championship hosted by Blairgowrie Yacht Squadron attracted a record 130 Sabres
The same reasons designer Rex Fettell had when he conceived the design.
A need for a single-handed dinghy that was light, of simple easy to build design, with good handling performance, even in 20 knots plus and lumpy seas, a comfortable cockpit and close class racing suitable for both male and female sailors who weigh between 50 to 90 kg.
Although the ideal weight is claimed to be 60 Kg – 80 Kg, winners have been at the extremes depending on conditions.
Females have won both the Australian and Victorian championships.
SABRE is a REAL boat, not a low profile surfboard type. Performance suits the average sailor rather than the super athletic skipper and at an affordable price.
SABRE fits neatly into the position between junior and family sailing dinghies, and the high performance but expensive international classes. Large fleets in so many clubs ensure excellent competition, a strong training and coaching base and protection of your investment.
SABRE is maintained as a strict one-design class by the Australian Association and supported by strong, active State Associations. Sabres have sufficient flexibility to move with the times and technological development without detriment to earlier boats.
The boat is readily transported by car-topping or light trailer and is easily carried by two people. Most skippers have beach-trolleys for easy single-handed launching which also fit onto their trailers.
For the keen do-it-yourself type the SABRE is easily amateur built by the simple stitch plywood and fibreglass tape method. It is estimated that most amateurs can complete a SABRE in 40 man-hours.
Full size templates and comprehensive building notes are available from the association to ensure ease of construction. Timber costs approximately $400 and current estimated all-up cost is $3500 home built.
Low maintenance all Fibreglass/Foam sandwich or Plywood/Fibreglass composite boats are available to varying degrees of completion from licensed builders. The standard and strength of these boats is excellent as well as being very competitive. Moulds are constructed under Association control and there are a number professional builders in Victoria and South Australia.
A boat registration number and a set of building/fitting out notes MUST be purchased from the Association prior to commencing construction (both Amateur and Professionally built boats). Following the building notes will ensure compliance and a Class 'A' Measurement Certificate which is mandatory for class championships.
Boat registration, Building/Fitting Out notes and Association Membership are available from :-
Barry Eastgate – National Secretary
Current cost is $90 which also includes the first year's full membership of the Association. Templates are available.
SAILS
The loose foot mainsail must be made from a minimum cloth weight of 3 oz as from 1st September 1992.
Previously cloth weight was unrestricted and many sails were made of 2.2 oz cloth which whilst very competitive, has now banned in the interests of longevity and cost minimisation.
Click here to view list of sailmakers.
ASSOCIATION OBJECTIVE
To encourage the growth, popularity and racing of the SABRE Class.
To regulate the SABRE class by encouraging and ensuring compliance with the established class rules.
To foster the sport of yachting in general, whether racing or pleasure.
WHAT DOES THE ASSOCIATION DO?
We ensure continuation of the SABRE as a One-Design class by
Regular review of construction materials, building procedures and fittings.
Active promotion, Nationally, in each State and Clubs. We:
We provide assistance in construction, through provision of Association building templates.
conduct Association meetings and regattas where ideas are exchanged, and guest speakers talk on subjects relating to the class and sailing.
conduct sailing programs enabling new sailors to obtain expert advice and assistance from experienced SABRE Coaches.
Provide regular Clinics and a Short Course Teams racing sharpen handling skills for National and State Championships.
conduct Association races for those skippers interested in top class competition, e.g. State and National Titles, Association Trophy days and Inter-club Team Races.
actively encourage Youth Sailing Training and participation in V.Y.C. Youth events. SABRE is a recognised Youth Training Class.??
provide assistance to Clubs interested in promoting the class within the Club.
keep members informed, pass on helpful hints, and provide details of races, meetings etc.
assist members in the purchase and sale of boats by maintaining lists of boats for sale and advertising them in the 'SABRE RATTLE' or on the web site.
 SPECIFICATIONS
STRICT, ONE DESIGN SINGLE-HANDED DINGHY
Designer: Rex Fettell (Melbourne)
LENGTH………………………………… 3770 mm
LENGTH W/L…………………………. 3352 mm
BEAM……………………………………..1473 mm
DRAFT……………………………………127 mm
DRAFT C/BOARD DOWN……… 762 mm
MAST LENGTH……………………….5335 mm
BOOM LENGTH……………………… 2135 mm
HULL WEIGHT (min)……………….. 41 kg
MAINSAIL (LOOSE FOOT )…….. 6.4 sq mt
Looking for Association contacts?