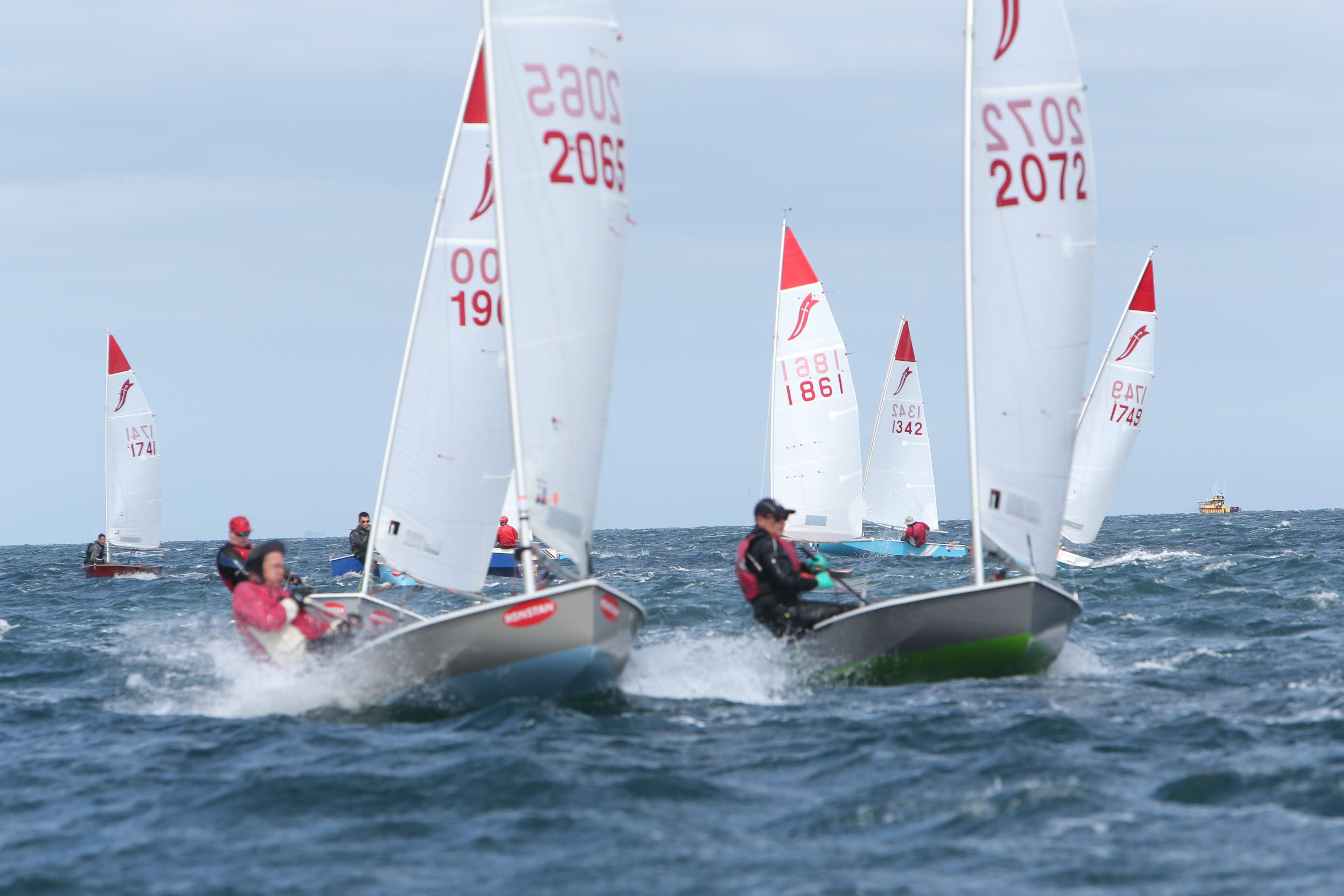 69 Sabres lined up for the weekends racing with competitors coming from many of the clubs that sail Sabres in Victoria.  The series was won convincingly by Alan Riley of McCrae following up his success in the Nationals held in January 2020 at Wallaroo, SA. Then followed Gary McLennan of Black Rock who won the title last year, just edging out McCrae's Murray O'Brien who finished third. James Nolan of Black Rock was fourth followed by Callum Burns of Blairgowrie. A previous National Champion, Callum returned to Sabres to sail this series.
The Ladies group was also hotly contested, won by Mt Martha's Michelle de Blaquiere, who also came 12th overall followed by Kiera Bates of Blairgowrie and Jarka Kluth of Black Rock.
Fantastic to see the youth contingent perform so well. Blairgowrie 17 yo Edward Warner was 10th overall and 1st in the Youth division followed by fellow BYS 14 yo, Sam Backwell who finished 13th overall. 3rd Youth was 15 yo Hamish McColl from SBSC. These lighter weights held their own against much heavier competitors in the gusting 25 Knot Sunday race.
Apart from the competition up front it was good to see some new faces who spoke highly of the benefits of close competition sailing in the big fleet and the advice they received from the more experienced sailors.  All appreciated the social interaction off the water and the great organisation and friendliness of the Mt Martha club members and volunteers.
MMYC and the RO's, Col Dods and Al Watson (both from McCrae YC) have set a new benchmark for Sabre championships.
It was also good to hear of the growth in Sabre numbers in Victoria and in particular in certain clubs. The support and coaching of these Sabre fleets has contributed to their success.
Saturday three races back to back were sailed in moderate and shifty SW breezes. The planned two races on Sunday commenced in 20+ knot winds leading to exhilarating reaches and numerous capsizes. In this race, Sabres showed their seaworthiness and pace. Clearly the only damage was to wounded prides.  As the wind increased, the Race Officers wisely decided not to start the last of the five race plan and all came ashore for the trophy presentation. 
Need to renew your state membership?