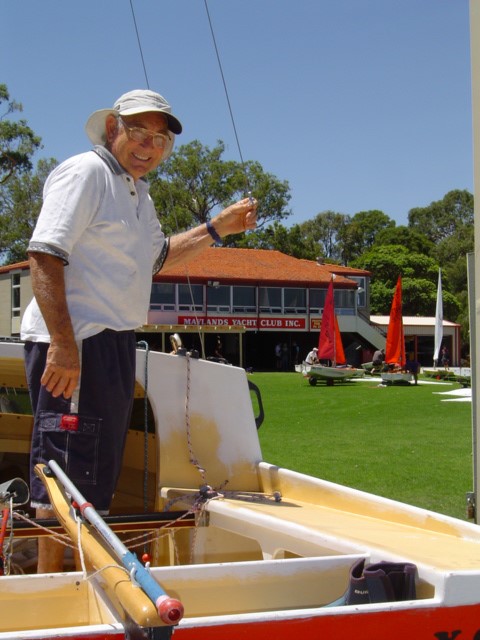 Terry Gaunt Snr, past Patron of the Maylands Yacht Club, has been mucking about in boats for as long as he can remember – and next week he can claim 86 years at Maylands – also his father, Wally Gaunt's home suburb, when Wally began the Maylands Yacht Club back in the 1940s. Born into a sailing family, Terry Snr was destined to get to the top of local and Australian sailing competition, achieving national titles in two classes – VJ and Gwen 12. In fact, he won three national VJ titles in the 1950s, including one as a junior when, in one junior heat, he actually lead the senior fleet home – which had started earlier!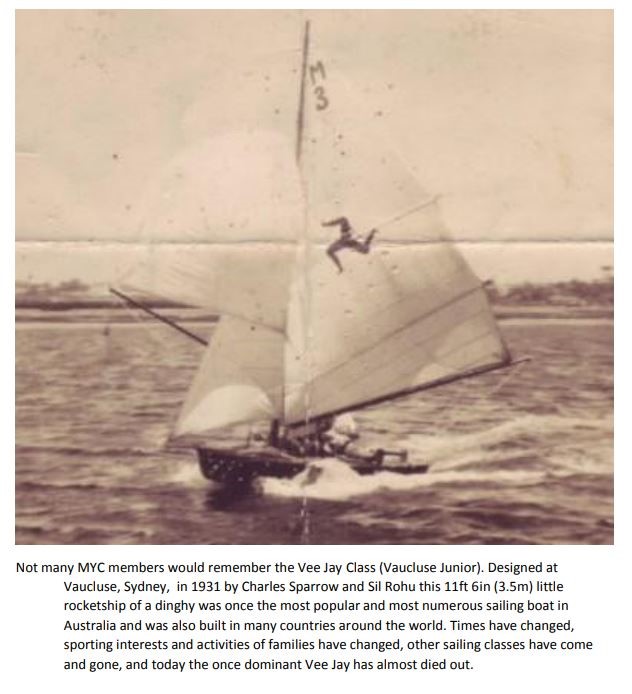 Terry Snr said about the above photo: "Taken in about 1947 at Maylands, that was my first boat Villain when VJ's were introduced to Maylands Yacht club. My father, Wally, was skippering the boat (with his foot) as you can see and I was crewing for him." Terry's son, John, said that his dad had never raced a single-handed boat before – but he added: "Losing is not really part of dad's vocabulary." So no-one was surprised when, last Sunday, Terry Snr decided to take his daughter, Anne's Sabre, appropriately named Vill-Anne "out for a spin."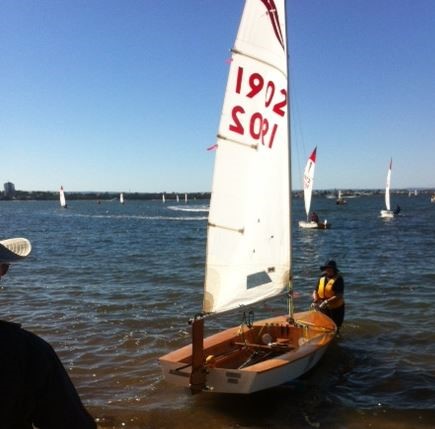 Anne Gaunt – with her Sabre #1902, Vill-Anne
Joining in the consistency race for Sabres, Terry Snr was soon into his stride – finishing just 30 seconds over-the-line behind the handicap winner, Bruce Lee, who is no slouch having sailed Sabres for 5 years now! Terry's son, Terry Gaunt Jnr, in #1870 Scimitar (fastest time on the day) had a nervous time trying to stay out in front of his dad too!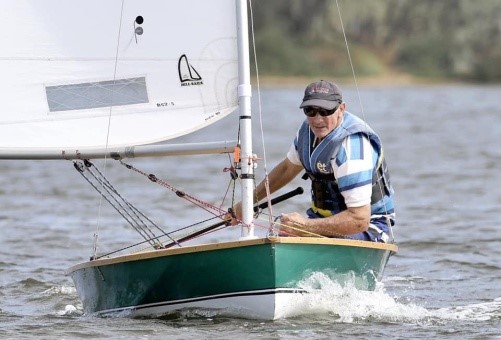 Terry Gaunt Jnr – #1870 Scimitar
The Gaunt family are now well entrenched in the expanding Sabre fleet at Maylands, with another son John recently purchasing an older timber boat, #1502, Storm Boy, and already finishing within 30 seconds of current club champion – you guessed it – his brother Terry Gaunt Jnr.
Terry Snr is now thinking of having a crack at this week's Championship Heat at Maylands. I think we are all very nervous now too – after all, he will still be a spring chicken being a couple of days short of his 86th birthday!