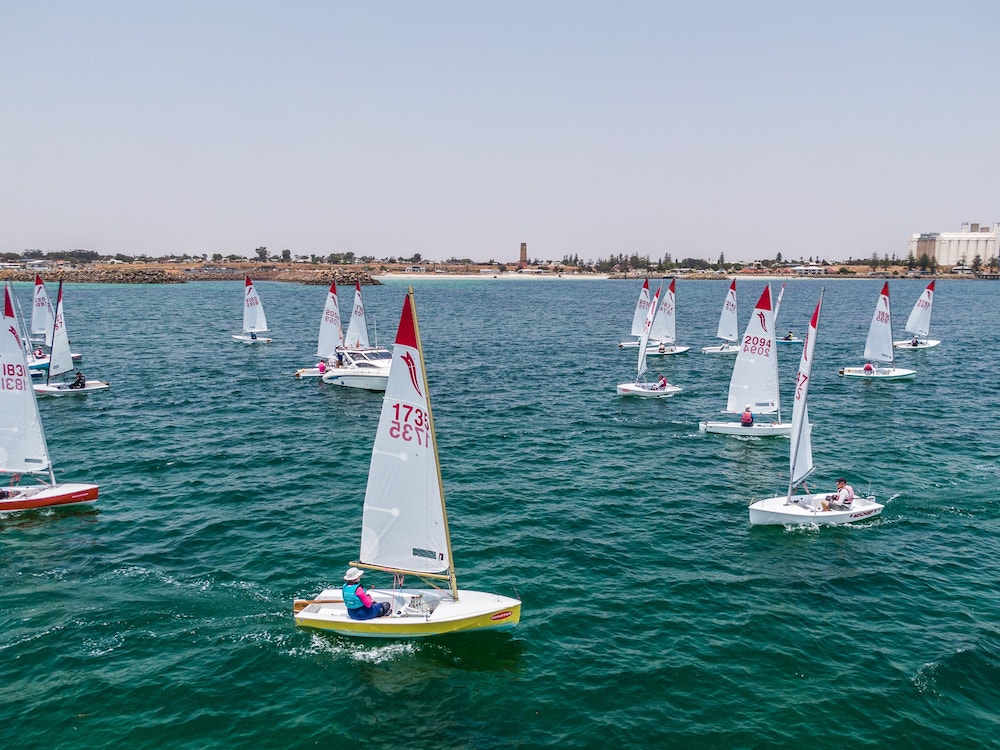 Hello Sabre Sailors,
Recap. News Updates emailed to members of the Sabre Family in June (link) and September 2019 (link) mentioned that Sabre Sailing Association of Australia (SSAA) had undertaken a SWOT analysis of the class which resulted in certain actions being taken. One was the appointment of an independent group of three experienced people (The Sail Evaluation Team – SET) to determine whether a new sail design was opportune, if so what it might look like and how it performed. Sailing trials commenced in October 2019 in SA and Vic, initially concentrating on evaluating the current Sabre sail against the Shark sail. The latter had been developed by a group of sailors in WA and had been used by some sailors in SA and Vic.
The evaluation process would include in – depth discussions with sailmakers who have extensive experience in making Sabre sails, also receiving feedback from sailors.
Evaluation criteria and process were established. Whatever the outcome, we do not intend to materially disadvantage our current Sabre sailors. A tough ask!
A little Sabre history. The Sabre was developed some 50 years ago by a group of dinghy sailors led by Rex Fettell to provide a craft light in weight, capable of being built at relatively low cost and able to sail well in the 15-20 knot breeze and lumpy seas in Port Phillip Bay. Sabre history and why it has become the largest non-Olympic single handed class in Australia is seen on the Sabre website. Initially seen as an intermediate class covering those who had 'graduated' from Minnows or Sabots, it also encompasses people who have had considerable success in international classes. All enjoy racing in large fleets and friendly competition through the fleet. Sabres have broad participation in age, weight and experience.
Although the Sabre hull and rigging has been refined with the advent of new materials and experience, the sail has remained basically the same outline, size and brand identification.
With such a broad 'target audience' one approach might be to establish say two Sabre groups covering different weight and experience ranges, each with different sails. After much discussion, this approach was discarded since it went against the Sabre ethos of inclusion, fellowship and friendship. Reasons why people had moved into Sabres had been explored in a 2017 survey published earlier on the Sabre website.
Where are we up to?
If we diverge from the current Sabre sail, a new design would need to be:
A more efficient sail, catering for the same range of sailor attributes. It should enable a Sabre to perform well with current crew attributes (weight/strength/age) in both flat water and Port Phillip Bay/St Vincent Gulf conditions.
A more modern appearance should reflect the same Sabre style. There has been considerable feedback regarding the striking appearance of Sabre fleets.
Durable and no more expensive than the current sail.
Capable of being produced with varying fullness and shapes to suit different sailing conditions, crew weights and experience, as is the case with the current Sabre sail.
Provide for a smaller sail size if required.
A phase in period that minimises any disadvantage to occasional sailors
What are our initial findings?
Since the so called Shark sail has been developed and used in several states it was decided that initial trails would concentrate on its strengths and weaknesses compared to the Sabre sail. Based on recent comparative sailing trials between these sails in differing wind, wave and crew weight conditions on Port Phillip Bay, we see the Shark sail being effective up to about 15kts both up and down wind. In summary, it provides a more lively performance and feel including an enhanced ability to catch and retain waves on reaches and runs.
Comparative upwind performance falls off as the wind increases. Although it has not been fully tested over 22kts wind strength it does not seem to match the performance of the Sabre sail, particularly for the less experienced and lighter sailors. The Shark sail is inherently less stable due we believe to its large head and full battens. Being translucent, the current Mylar cloth has poor distance visibility, a potential problem when a sailor is having difficulties and requires assistance.
One of the more unexpected outcomes of the trial is that the Shark sail's full battens make launch and retrieval more difficult due to the battens tendency to suddenly 'flick' resulting in a capsize on the ramp, while launching or holding the boat
We have received mixed reactions from Sabre sailors on the Shark sail's appearance ranging from: 'OK, we could get used to it' through to 'it's ugly'. Others have suggested a smaller head would be more appealing. A larger window with improved visibility has been a significant plus.
Future directions.
Trials will continue and the SSAA will support SET to conclude its findings and provide feedback. The Team is also planning to get two new sails developed in Dacron by current Sabre sailmakers. The aim is to develop and test a modern sail plan.
This is an exciting project; a great opportunity to bring Sabre sailors together, to gain publicity for the class, to contribute to Sabres 45 years of history and to ensure that it continues to move with the times.
A communication strategy is being developed and will be implemented by Down Under Sailing – including exposure in general sailing publications – online, hard copy and video. We aim to encourage Q and A discourse.
Yours in sailing
The SSAA Committee