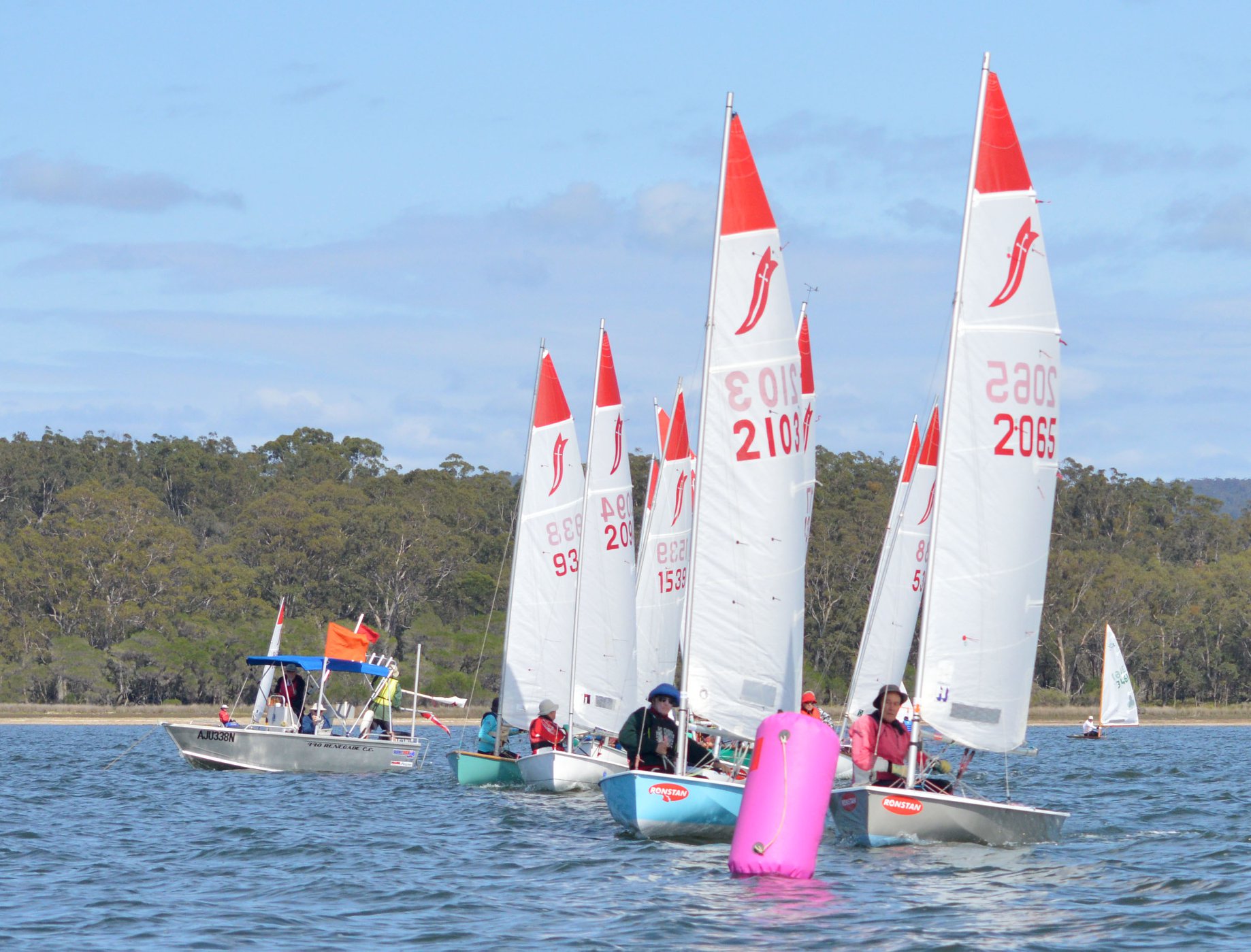 Our third State title to be held recently at Lake Wallagoot Boat Club was another success and brought smiles to the locals as out-of-towners came to stay and play. This stunning piece of water set in the Bournda National Park near Tathra is one of the best stretches (and least used) in Australia. Four Victorians made the 6-7 hour trip along with 4 Sydney siders. The Saturday saw 3 races held in a freshening but shifting Southerly breeze ranging from 8-15 Knots. (My opinion.) From the beginning the superiority of the Victorian visitors boat speed was clear. In particular Alan Riley in "Maybe Not" showed why he has won the last two National Titles winning each of these races by 40 seconds or so from defending champion, Murray O'Brien in "Purple Patch". Third in each race was Bruce Abbot in "Panache" and fourth in the first two went to Peter White in "Delusional". NSW skipper, Brad Gorman in "The Darkside" upset the trend by finishing 4th in heat 3.
Sunday saw the breeze lightening but this made little difference to the leaders with the "usual places" coming through. This meant that neither Alan nor Murray could be displaced from the top two places but they continued to contest the last race. Murray going to an impressive lead until he backed his assessment of the breeze rather than covering Alan on the last work! So a clean sweep to Alan Riley. The women's trophy went to an improving Sian Morton in "Gillyweed", the first NSW boat was Brad Gorman's "The Darkside" in 5th, defeating Craig Simpson, in "Poetic Justice" by one point. First local was Neil Fisher who was 7th in "Windsong". The annual Challenge trophy was also won by Victoria. From a NSW point of view an enormous amount was learned about sailing faster and we do feel that we are on the improve. Regular and close class racing is clearly important but the readiness of our visitors to share ideas and offer support is much appreciated.
Next season sees us hold the National Titles at the Canberra Yacht Club from Sunday the 10th of January to Saturday the 16th. Keep an eye out for the NOR over the next few weeks. And pencil in the first weekend in March for the next NSW State Titles at Wallagoot.
Photo gallery available on Facebook by clicking
here
.