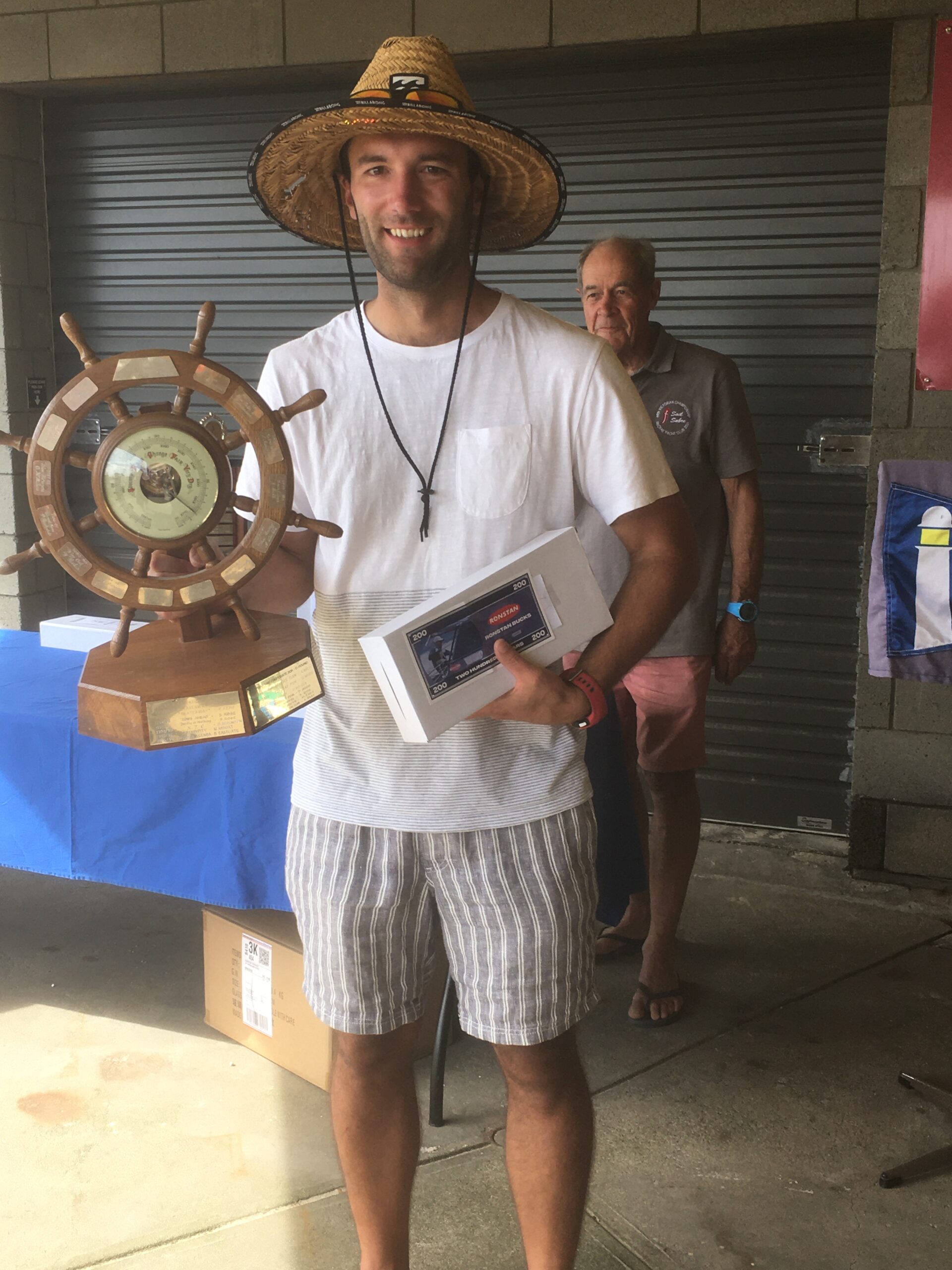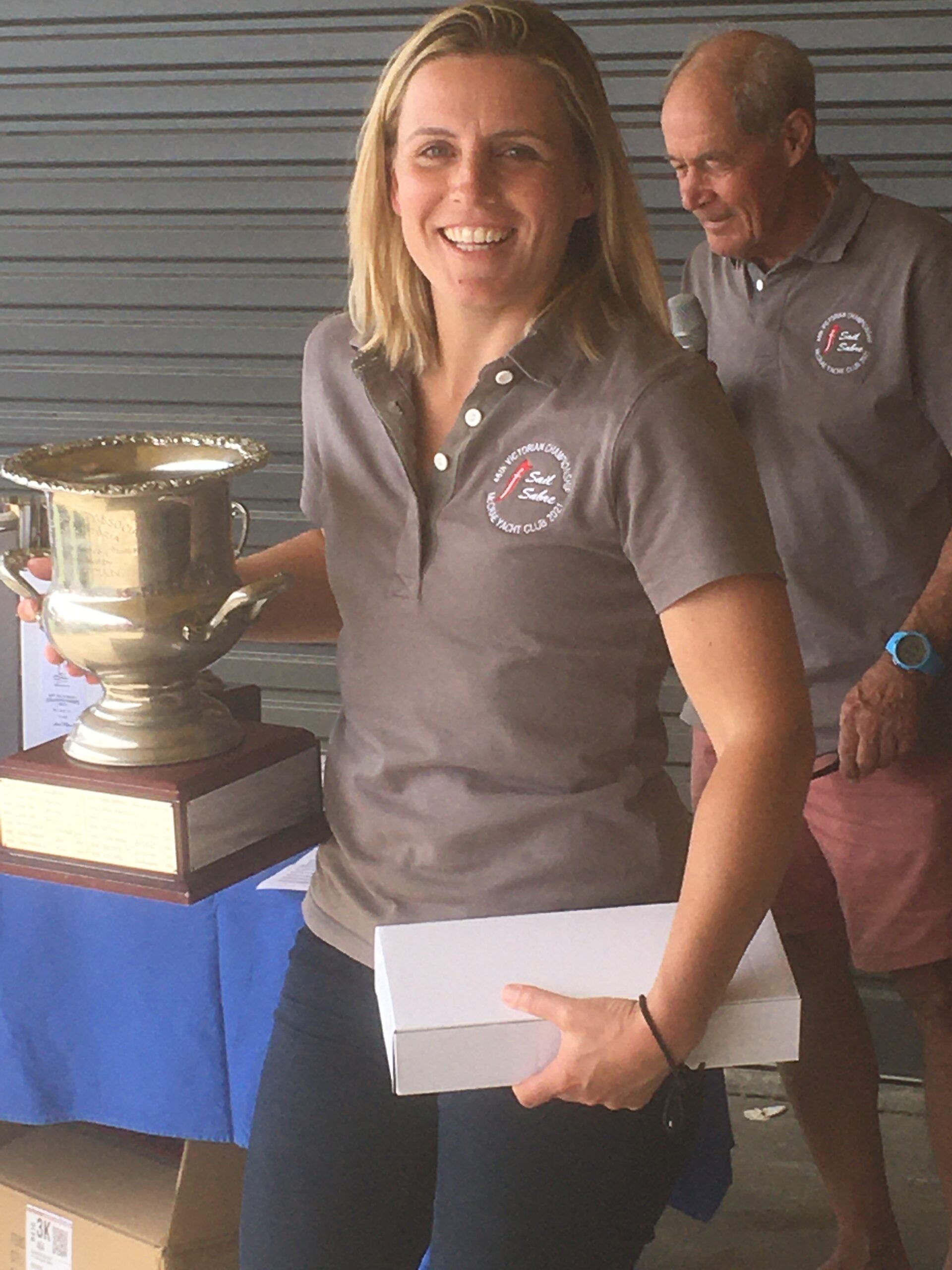 Big Sabre regatta yields mix of age, weight and gender in top places 
With 82 entries ready to race in mid-February, due to the sudden Victorian covid lockdown, the series was postponed to the 6,7 March 2021 Labour Day long weekend. Following the change of date, 60 boats from many of the Victorian clubs that sail Sabres faced the starting line.
Sabres are particularly grateful to the Tasars who were scheduled to hold their State Championships on this weekend at McCrae YC and allowed Sabres to share their weekend and location. We are also very grateful to our sponsor, Ronstan, who gave vouchers to the main prize winners. ­
Three races were held on Saturday in an excellent sailing 12-18 kts shifting SW breeze. The strong tide pushing the fleet over the line caused the U and black flags to come out to curb most of the enthusiasm. The following day saw the final two races held in a 5- 8 kts swinging N-NE breeze which split and spread the fleet.
Overall winner, including the senior or under 40 years group, was Simon Merritt of McCrae YC with two firsts, a second and two thirds in a borrowed boat. Simon learnt his sailing at McCrae via Minows and Lasers, having won numerous championships. He gained second placing in the Laser radial state champs in light weather at Sorrento the previous weekend and said that this, together with some local knowledge, helped him in the conditions on Sunday. Simon is impressed with the initial 80 entries, "you guys must be doing something right" and with the wide range of crew weight, age and gender who were competitive. "It's a very forgiving boat.
McCrae's Alan Riley came in second and Murray O'Brien, one point higher in third place. Alan was 2020 State and is National champion and Murray runner up respectively. Both have held past titles and are very willing to help those who are seeking to improve their skills. "They are first on and last off the water and a great role model for the club." McCrae YC breeds champion sailors.
Not to be outdone, the big contingent from Blairgowrie included a strong youth team this year. Each of Hamish Cowell (16), Angus McIntyre (14) and Sam Backwell (16) won a heat, and they ended up 4th, 5th and 6th respectively. This despite Sam and Hamish having overdone the start in race three, receiving the U flag penalty and needing to drop this race. They've all come through Blairgowrie's Junior sailing program sailing Minnows. Sam has been sailing Sabres permanently for the past 12 months, after having won both state and national Minnow championships. Hamish won the Open Laser 4.7 state championships and Angus won the junior division. Both borrowed their Dads' Sabres for McCrae, which meant that their fathers, Andy and Steve, could only watch the racing from a RIB!
In seventh place came Michelle de Blaquiere, also winner of the well contested Ladies division. Michelle leads the fleet in at nearby Mt Martha YC.
The weekend concluded at the presentation of 45 trophies, including awards for age, weight and fleet divisions. Overall results are seen here.
All competitors enjoyed the close, big fleet racing and were very complementary to the club and its volunteers and officials, particularly PRO Alister Watson who got the fleet away for the scheduled five races with one drop, in difficult conditions. 
The numbers, enthusiasm, close racing and overall success of this regatta underpins the growth of the Sabre class in Victoria and Australia, with demand for new and good second hand boats currently pushing supply.
Bruce Abbott
President Sabre Assoc of Vic.
Photos:
Boats on the beach (Luis Mata)
Starting Line (Russell Bates)
Michelle de Blaquiere – 1st Place Womens (Murray O'Brien)
Simon Merritt – 1st Place Mens (Murray O'Brien)