Sail Bellarine – 2022 regatta weekend.
A strong fleet of 16 Sabres from eight clubs competed on the end of season regatta at Indented Head Yacht Club on the weekend 30 April/ 1 May 2022. It was certainly a significant event, with a limit of 130 boats over 10 classes participating on two courses. Entries closed early when the limit had been reached.
As a major variation to the balmy conditions last year, Friday night greeted competitors with heavy rain. Fortunately, Saturday delivered fine weather for three races in 20kt offshore westerly winds with calm seas and Sunday lighter, variable conditions with an uneven chop for the concluding two races. There were conditions to suit all comers.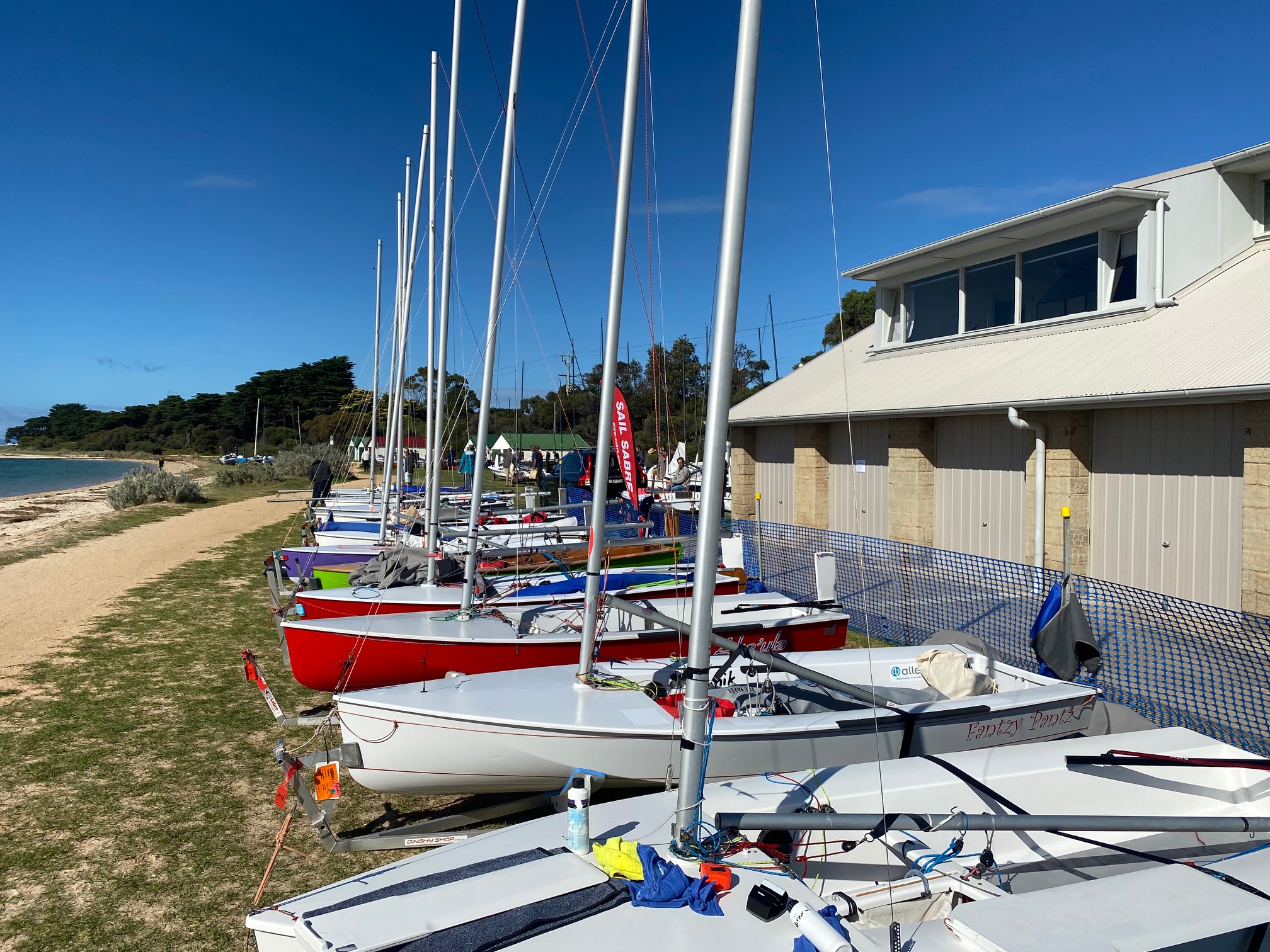 The regatta was ably run by Peter Ellenby and his large team of volunteers and Principal Race Officer, Col Dodds and his team. It ran very smoothly and was a most enjoyable weekend. On the water, the U flag was used for all five races which certainly reduced the number of general recalls but caught some early starters in several races. In line with the friendly culture of this regatta, there were no protests, with any issues sorted out on the water with boats taking penalty turns.
David Arnold of Altona YC showed consistent performance in first place on 6 points including three firsts with Black Rock's Gary McLennan as runner up on 8 points. Then came David's brother Michael on 13 points with Michelle de Blaquiere of Mount Martha on 16 beating on countback Bruce Abbott of Black Rock, also on 16 points.
It was certainly a regatta to relish; well organised and supported, most enjoyable with excellent, friendly competition. Our thanks to the organisers, officials and volunteers and sponsors.
It's intended that the regatta will be run again at a similar time next year so to ensure entry and avoid disappointment it will be important to enter early.
Full results can be found HERE