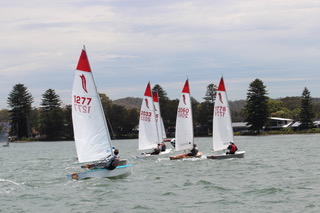 The 44th SSANSW State Titles were sailed on 26,27 December 2022 at Teralba SC on beautiful Lake Macquarie.
Sunday saw three races sailed in variable 3-10 knot NW/N winds. Following Saturdays heats, Troy Lewis started the day with a one point lead over Craig Simpson and two points over Warren Ruprecht.
Heat 3 saw Geoff Comfort scoot away to a strong lead leaving the rest fight it out in very shifting winds. Picking the right lift and scanning for "gusts" was pivotal all day. Geoff held his lead and it was the incredibly consistent Troy Lewis who came through for second with Richard Dodds picking the right shift to come in third.
Heat 4 saw six boats fighting it out for a while and in a compressed finish, Troy Lewis emerged in front from Geoff Comfort and Warren Ruprecht. This meant that in the last heat, Troy only had to hang onto Geoff's coattails to win. Geoff needed first place but it was not to be. As the breeze dropped further, Richard Dodds found the magic and won convincingly from Geoff, Troy and Jamie who finally remembered how to sail! That meant five different winners of the five heats, similar to the Nationals sailed in January. Just goes to show how difficult it is to be dominant in this class.
Congratulations to Troy for winning back to back titles and a very consistent performance to Geoff Comfort second, Richard Dodds and Craig Simpson tied for third.
Early notice that the 45th NSW State Titles will be held at the Taree Aquatic Club in November 2023. See you there.