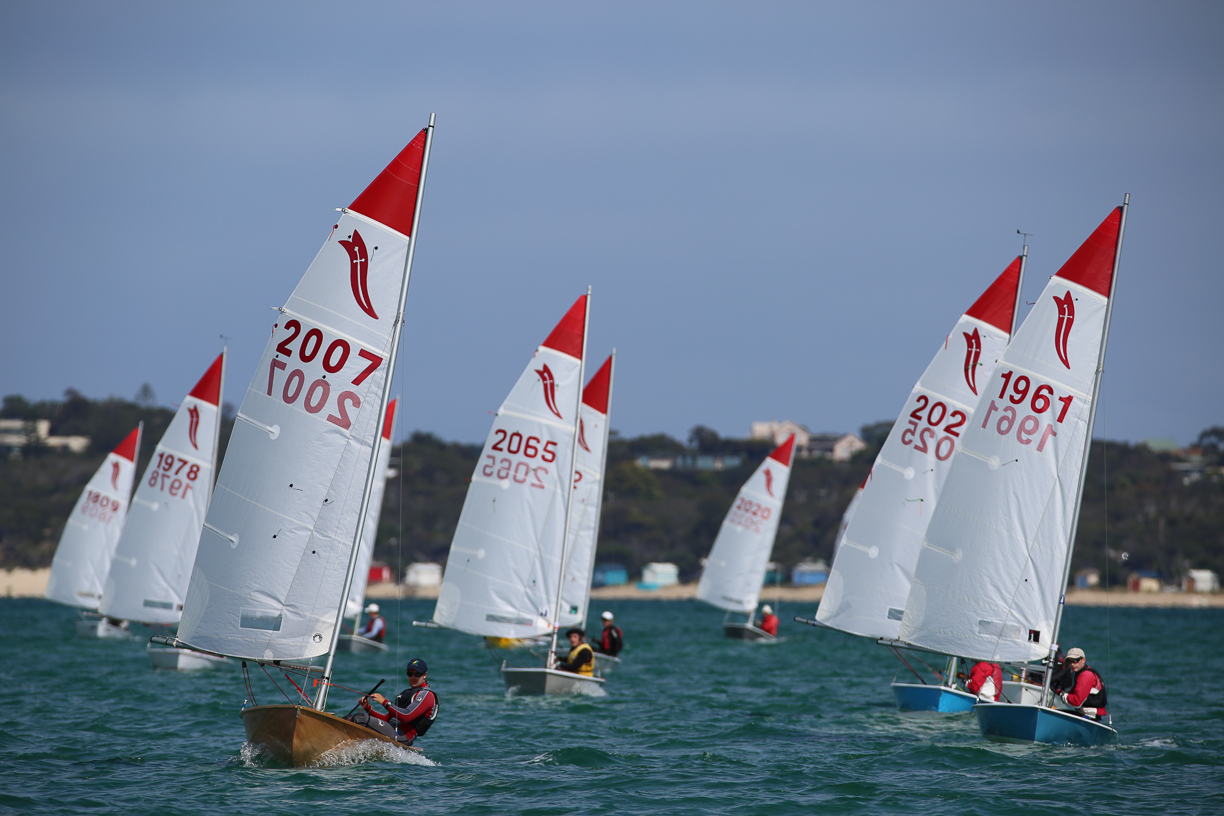 The Victorian Sabre fleet is set for an exciting season of sailing ahead, with a jam-packed schedule of competitive racing, which recently kicked off on the weekend of 31 August with the Sail Mordi Regatta at the Mordialloc Sailing Club.
With a fleet of Sabres competing, Sail Mordi set the tone for a big few months of local racing as sailors get ready for the 2020 National Championships from 5-11 January to be held in the South Australian country town of Wallaroo.
The excitement has been building for a number of weeks already in Victoria with good turnouts at the Mordialloc Sailing Club's Winter Series races on Sundays throughout August and even a few boats heading out for mid-week sails to blow the cobwebs out.
Following Sail Mordi, the Victorian fleet will have a strong presence at the Elwood Sailing Club Sabre Regatta on 19 October, and also at the Go for Gold Regatta at the Black Rock Yacht Club on November 30 and December 1.
The action will continue for local Sabre racing this season after the Nationals, with some great events planned including the Australia Day Regatta at McCrae Sailing Club on the Mornington Peninsula, and the State Championships at the Mount Martha Yacht Club on 15-16 February.
The State Championship is always a highly anticipated event on the Victorian Sabre calendar with usually more than 60 boats participating each year.
The Victorian Sabre Association has also inked the New South Wales Sabre State Championship into its schedule with the exciting concept of the Interstate Challenge taking place on the Victorian Labour Day weekend of 7-8 March on the south coast of New South Wales.
On Lake Wallagoot near the lovely town of Tathra, Sabres from New South Wales and Victoria will again go head to head in what is sure to be one of the most enjoyable events in the racing calendar.
Things don't slow down right through to the end of the season, which will see a Teams Racing event take place at Mordialloc Sailing Club on 28 March next year, which is now structured to enable sailors of all experience levels to compete on a level playing field.
There is plenty on offer for the female sailors of the class this season as well with two female-only events happening before Christmas, including the City Sail Regatta at Albert Park Yacht Club on 14-15 September, and the She Sails event at Somers Yacht Club on 14-15 December.
With a forgiving boat design and a class culture that is welcoming and enjoyable to learn in, the Sabre provides an ideal platform for women looking to stay involved in quality and competitive single-handed dinghy racing.
A number of coaching days will also be included in some of the regattas this season with City Sail, Go for Gold, and the Elwood Sailing Club regattas all set up to enhance the quality of the fleet and give more knowledge back to the sailors.
Sabre fleets in Victorian clubs are also holding individual coaching days with more dates to be advised in due course, with the Black Rock Yacht Club pre-season warm up coaching on 21 September and Blairgowrie Yacht Squadron confirmed at this stage to be hosting a coaching day on 1 February 2020 in preparation for the Victorian States at Mount Martha.
With a strong contingent of sailors all taking part in some really competitive racing, as well as a great off-water culture and plenty of action happening behind the scenes, there really is no better time to be racing Sabres in Victoria.
Here's a nice little video filmed at Black Rock last Saturday.