A bumper crop of 74 entries and competitive raced over 2 days under testing conditions that witnessed breeze from every direction on the compass (except perhaps vertically up).The 43rd Sabre State Titles once again demonstrated that the Sabre is a sailing class with wide State and National appeal, suitable to the waters of Port Philip and a boat fit for all ages.
Numbers were up slightly on the equally successful 2016 States titles at Somers Yacht Club in 2017 and this was in no small part attributable to the pleasing increase in numbers of female skippers (15 at last count) and the increasing numbers of youth sailors coming through the class. The greater influx of these groups is certainly putting on a squeeze at the top end of the fleet. Sabre's flexibility was evidenced in the top 10 placings, with a mixture of female and male sailors of all ages from youth to veterans.
Congratulations to all participants and in particular to Gary McLennan, the overall winner who has just returned to Sabre sailing after a broken arm, to Murray O'Brien who was also in second place at the recent Sabre nationals in Perth, to returning champions Wayne Bates in third place and Chris Dance in fourth and to Megan Delange in fifth. Megan was also the winner of the well contested female group.
The top 5 and top 10 results came from a wide variety of Vic clubs, illustrating the widespread strength of the class. It was not easy to be consistent in the often changing conditions and each boat had a bad race which they were able to drop from the five race series.
The inclusive nature of the Sabre fraternity recognises that it is not always about the front of the fleet. While every fleet has its champion, there is no champion without a fleet, a credo of the class. Prizes are allocated on range of outcomes covering age groups, weight categories, novelty prizes such as Mr and Mrs 'Mid Fleet' and of course the Top 10 placegetters. Prize results are seen here. Overall placings are seen here.
The Sabres camaraderie and culture was firmly on display with all competitors providing their finest and most spirited efforts on the race course. Sailors are then first to offer a hand to pull boats up the beach or buy each other a well-earned refreshment, to get racing started all over again back at the bar. This camaraderie is a hallmark of the class; an inclusive spirit and a variety of programmes for class and personal improvement.
Many thanks must go to Safety Beach Sailing Club and its volunteers for putting an industry 'best-practice' display of organisational talent. Again, many thanks to the Victorian Sabre Committee (otherwise known as volunteers anonymous of Victoria) who tirelessly and seemingly invisibly roll out these events like clockwork. Special mention must be made of the efforts of class stalwart, Secretary/Treasurer Barry Eastgate and SBSC regular Bill Manning in their hard work to make it all happen.
This article would not be complete without ensuring that we clarify the events that lead to the unfortunate exclusion of two sailors from the official entry list of the regatta.
As an Association there are clear and written protocols of the requirements that determine eligibility to compete in a Victorian State Championship. These are contained within the NOR and include a fully measured and certified Class A boat (including spars, sail and foils), being a financial member of the Victorian Sabre Association, holding minimum Public Liability Insurance provisions of $5 million and lastly entering the regatta prior to the stated deadlines in the NOR.
In the interest of the class promotion and ensuring enjoyment for all, the Committee's approach was one of fairness and flexibility for every competitor to demonstrate or provide relevant documentation. Unfortunately at this regatta this was not able to be achieved by all sailors and the Committee was left with no option but to exclude them from eligibility to receive prizes or recognition of place. This is a regrettable but ultimately unavoidable outcome for all concerned. No one on the Committee wants to disqualify any sailor at the event, nor do we want to be placed in a position of enforcing these requirements while at the same time sailing our own regattas. Being forced to make such decisions puts all involved in an invidious position and one we would have much rather avoided.
We do say a strong welcome to those sailors involved and we certainly hope to see you sailing Sabres soon.
Overall, it was again a very successful championship event with great social interaction and sailing under testing conditions. Well done and congratulations to the winners and all participants.
Yours in Sailing
Russell Rooney – Victorian President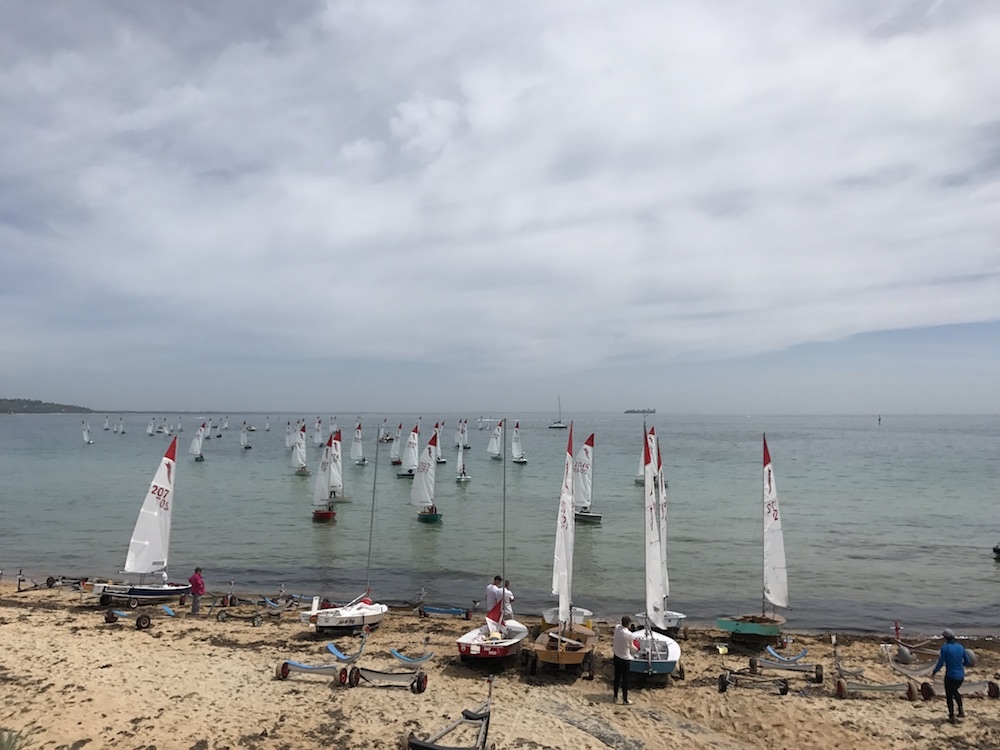 "Gimme the beat boys and free my soul, I wanna get lost in your rock and roll and Drift Away"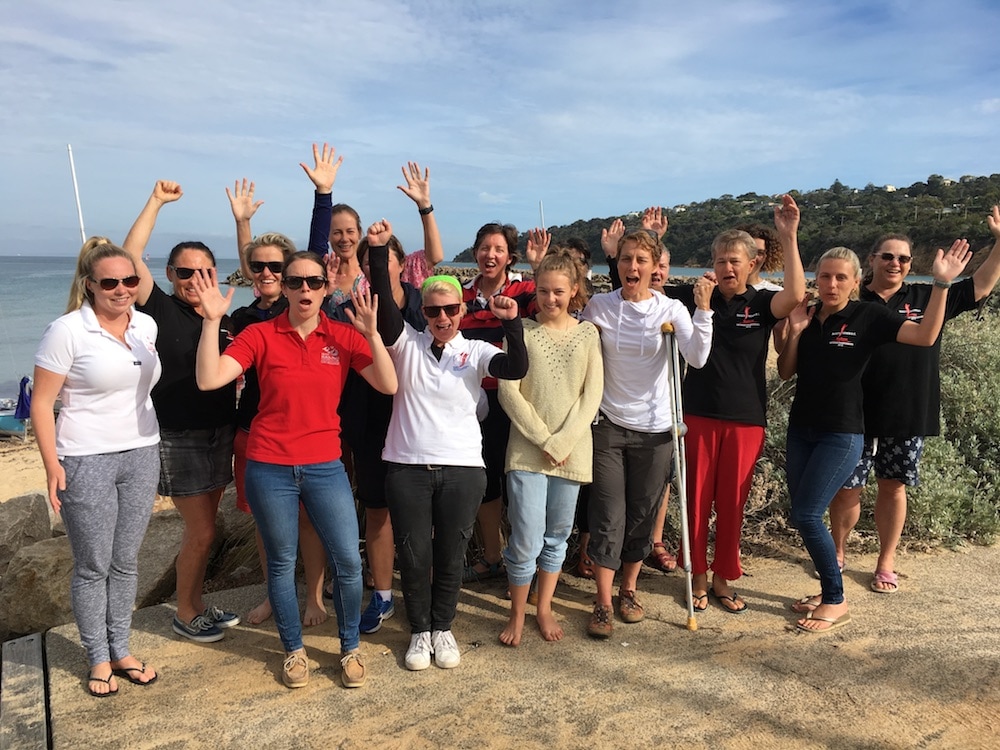 "May the force be with you. Sabres attracting plenty of female sailors to the class". See here for a more extensive report on the 'Sabrettes' action.
As advised to Sabre sailors by email of 17 December 2017, the NOR has been published and entries are open for the 2018 States. Another great show with strong competition right through the big fleet.
Enter now while it's still on your mind - and you can order a shirt that fits!